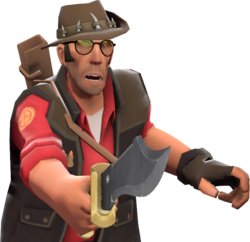 The
Trophy Belt
is a Hat in Team Fortress 2 and available to use in Garry's mod if a player has installed the game. The Hat is worn by
Saxton Hale
and also available for
Sniper
.
Release Date
Edit
The Trophy Belt, which came out as one of the 9 first Hats and as the first Hat who could be worn by Sniper ever in the game, was released in the "Sniper vs. Spy - Blood Feud in the Badlands"-Update. That was back in the Time were TF2 was even Pay to Play.
Differences to the normal Hat
Edit
It adds a Belt of Trophies, Crocodile Teeth to be precise, to the regular Sniper hat. (For example the Soldier's Stash does nearly the same effect to the Soldier Helmet, just with a Package of Cigarettes and some Poker Cards)

Paint can be used on the Hat. That changes the Color of the Belt to whatever the Color of the Paint Can is. There are White Can, Black Can, a Can which is Team Colored or an orange Can to tell 4 of a Lot.
Ad blocker interference detected!
Wikia is a free-to-use site that makes money from advertising. We have a modified experience for viewers using ad blockers

Wikia is not accessible if you've made further modifications. Remove the custom ad blocker rule(s) and the page will load as expected.