Tool Gun
Talk

0
386pages on
this wiki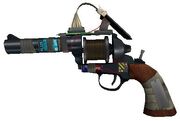 The Tool Gun is an important piece of Garry's Mod. It allows Players to manipulate a variety of functions to create different things. The gun itself looks like a revolver with lots of technical wiring and a screen on the back, displaying the tool being used.
The Tool Gun comes with many tools by default. Many of these perform basic functions.
Tool Guns tools can be added from the server host!
Face Poser
Edit
Gives the player the ability to adjust the faces of ragdolls, and was first seen in Version 6a.
Now in Gmod 13 the player can Face Pose other online players.
Gives the player the ability to set fire to any object.
Paint Tool
Edit
A tool-gun which gives the player the ability to paint decals such as blood, bird excrement, beer splash, alien blood and other substances onto different surfaces such as walls, objects and ragdolls. Spawn Menu The player can spawn items into the map by using the spawn menu (opened by pressing and holding the Q key). This menu gives the player access to most physical objects, such as rocks or furniture, and character ragdolls, such as enemies and characters.
Hides the weapon and HUD, and takes a screenshot when the player clicks the mouse, making screenshots easier to take.
Post-processing effects
Edit
There are a number of post-processing effects that can be utilised in Garry's Mod. Some examples are depth of field - a blur effect that simulates how a camera/eye lens focuses on different distances. Bloom: an effect which causes light to spread; or 'bloom' this effect is an important component of HDR rendering. Not all graphics cards support these features
Allows the player to make a rope between two physics such as; Walls, Ragdolls, NPC's and Props. The player can set how wide and long the rope should be.
Allows the player to weld two objects together or to weld an object to a wall or so. Also it is called the weld tool, all it does is attach one object to another so they move with each other.
Pulley Tool
Edit
The pulley tools takes four steps.
Axis Tool
Edit
The axis tool creates a point on which an object will rotate.
The Ball Socket tool lives up to its name: It creates ball-and-socket joints on which an object can pivot and rotate in any direction.
Balloon Tool
Edit
Attaches floating balloons to all kinds of objects. The upward force of a balloon can be altered. The balloons themselves used to be watermelons that had been altered to fall upwards, i.e. as if they were filled with helium. As of GMod 9, the watermelons have shiny, flat color textures to appear as balloons, as opposed to previous versions where they were merely watermelons with different colors. in Garry's Mod 10, a proper balloon model will be used instead of re-textured and recolored watermelons.
Thruster Tool
Edit
Attaches thrusters that can be controlled by the number-pad. They are essential in the function of flying contraptions and applications where land vehicles are simply not efficient with wheels.
Attaches rotating wheels to anything. Once applied, the player can control the direction and speed of the wheels. There are many different types of wheels, ranging from actual car tires to saw-blades and barrels.
Allows players to change the colors of objects using RGB sliders.
Changes the textures of objects. Can be used in conjunction with the Color Gun.
Magnet Tool
Edit
Converts ordinary objects, regardless of their materials, into magnets which attach to any object or ragdoll. This tool also has a few interesting side effects, such as making breakable props unbreakable, removing all constraints from a prop and unfreezing frozen props when used. The magnetism can be altered via a slider. Note that the magnet does not attract objects.
Dynamite Tool
Edit
Creates infinitely reusable, remote explosives that can be set off with a button on the numpad. These have many uses, including cannons and traps.