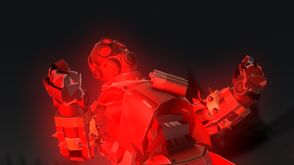 THE SUPERCOLLIDER IS THE OFFICIAL BESTEST PAL OF THE SCIENCE MASTER. The supercollider is a robot dude with SUPER STRENGTH and is the second member of TEAM BLITZSTORM. he uses no weapons. only his hands. HE WILL RIP YOU THE FUCK IN HALF DAMMIT. the supercollider helps the science master on his objective to obliterate all splatoon gmodders. DEATH TO THE SQUIDKIDS.
despite the fact that he only uses his iron ROBOHANDS to mangle his victims the fuck up, the supercollider shares similar dragonball z fighting techniques as the science master.
NOTABLE MOVES
Edit
DIVIDED BY TWO
BRUTE BICYCLE KICK
CYBER SLAM
JOHN MADDEN'S FORGOTTEN OFFENSIVE
ELECTRO CHARGED FISTS
COLOSSAL CLOTHESLINE
SERVO SMACKDOWN
HEADBUTT OF MANY CONCUSSIONS
AUTO UPPERCUT
SCHOOLBUS DROP - YOU DAMN WELL KNOW WHAT THIS IMPLIES
OTHER INFO
Edit
OFFICIAL THEME MUSIC:
Ad blocker interference detected!
Wikia is a free-to-use site that makes money from advertising. We have a modified experience for viewers using ad blockers

Wikia is not accessible if you've made further modifications. Remove the custom ad blocker rule(s) and the page will load as expected.