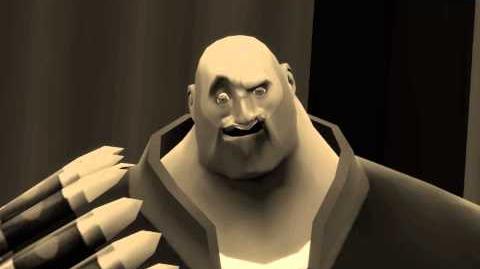 Suicide Spy is a minor Gmod monster, created by the YouTube user, MrCadillacHimself, now known simply as Mr. Cadillac. He is a freakishly-disfigured RED Spy, whose only appearance was on an extremely-old security camera feed, from Well Union Station in The Badlands, New Mexico. He is a parody of Creepypastas, namely 'Suicide Mouse'.
Suicide Spy's history is very hard to deduce. No, scratch that, EXTREMELY HARD TO DEDUCE, because of the horrible spelling and grammar of his documents. According to the papers, he was a Spy, killed by a Heavy for eating his sandwich, who haunts Well Union Station. However, except for his debut, he has not made any further appearances, although similar characters, such as Namvet and Suicide Poot, carry on his tradition of badly-edited terror and confusion....Namely confusion...
Creation of The Character.
Edit
After the failure of his Ugotaphonenumber smexual video adaptions, Mr. Cadillac was left with many slides, remaining from the videos. Suicide Spy is, in fact, a still from a scene in the infamously-terrible, 'DrCocktor_and_Fapengie's_Sexual_School.fap', edited with an 'Oldest Film' effect from Windows Movie Maker. Despite originally coming from something inconcievably badly-made, the praise for the video was almost universal, compared to the failed effort of the 'Sexual_School'. Suicide Poot, in a similar fashion, was made of stock footage from, 'Heavypotisman Sees An Alien Aircraft', whereas the rest of the series was made of content not previously-used (The later videos are not shown, as they do not portain to Garry's Mod.)
Ad blocker interference detected!
Wikia is a free-to-use site that makes money from advertising. We have a modified experience for viewers using ad blockers

Wikia is not accessible if you've made further modifications. Remove the custom ad blocker rule(s) and the page will load as expected.