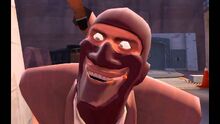 The Spy is one of the 9 playable charicters in Team Fortress 2. He is the best for being sneaky and the best backstabber.
There are a lot of things with the Spy in GMOD, but here we have examples on RED and BLU:
Father of BLU Scout
Husband of Scout's mother
Onced used cocaine drugs and though the G-Man was a BLU Spy
Enemy of the BLU Sniper because he is a easy target
Enemy of the BLU Pyro because the Pyro is good at Spychecking
Fools RED Team as a RED Spy
Enemy of RED Spy because he is an easy target
Enemy of RED Pyro because the Pyro is good at Spychecking
In Karma Soldier episode " The Denomic Man" he got burned by a YELLOW Pyro
Yellow Spy
Edit
Leader of the Yellow Team.
Wants to kill BLU Heavy, but fails.
In some videos some RED Spies and BLU Spies hang out each other like drinking tea and dislike Sniper's song.
BLU Spies known as the Summer Hat Brothers are the main antagonists of Spy is a Troublemaker and Very Unusual Troubles.
BLU Spy is the main antagonist in Not so Magical Events.
RED Spy is the main protagonist in Unusual Troubles, Very Unusual Troubles and Extremely Unusual Troubles
Ad blocker interference detected!
Wikia is a free-to-use site that makes money from advertising. We have a modified experience for viewers using ad blockers

Wikia is not accessible if you've made further modifications. Remove the custom ad blocker rule(s) and the page will load as expected.