This SNPC is a giant spider. It kill's you in one hit but it doesn't have an attacking animation. The so
unds are models are used from Dark Messiahs Spider Queen boss. It is said in the Garrysmod org description, you might need Nuke Pack 4 or any explosive weapon to kill it because it has
ALOT
of health! I say that this is a boss. To get the model, find the folder in the browse section.
LINK FOR THE SPIDER SNPC: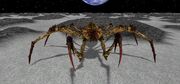 http://www.garrysmod.org/downloads/?a=view&id=125561
Ad blocker interference detected!
Wikia is a free-to-use site that makes money from advertising. We have a modified experience for viewers using ad blockers

Wikia is not accessible if you've made further modifications. Remove the custom ad blocker rule(s) and the page will load as expected.