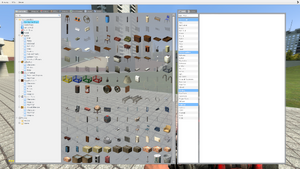 The Spawn Menu is possibly one of the most used menu in Garry's Mod, as it is used for various things. It is used to spawn things such as  Props, Ragdolls, Entities, Effects, and access your dupes. They can all be interacted with using the
Physgun
 or the
Gravity Gun
, usually this only works with props or Entities, but caution yourself, as picking up an Effect with the Gravity Gun causes Lua Errors in the current version of Garry's Mod, Which is Garry's Mod 13. The spawn menu was added in Garry's Mod 5.
Using the Spawn Menu
Edit
The Spawn Menu can be accessed by holding "Q" by default, and can be toggled by pressing "F1" by default. Simply hover over somthing you would like to spawn, and click it. Note: The object you choose to spawn will spawn where ever your cross-hair is. To undo an object, Push "Z" by default. To select the different types of objects you can spawn, use the tabs located at the left and right of the Spawn Menu.
Parts of the Spawn Menu
Edit
Tools Menu
The tools menu is the primary place for the player to choose what mode to set the Tool Gun to.
Gmod 5: Added spawn menu.
Gmod 6: Added tabs
Gmod 8: New layout.
Gmod 9: Added icons.
Gmod 10: Redesigned again
Gmod 11: Small changes
Gmod 12: Small changes?
Gmod 13: Changed left side of spawn menu, moved Post Processing to left side.
Ad blocker interference detected!
Wikia is a free-to-use site that makes money from advertising. We have a modified experience for viewers using ad blockers

Wikia is not accessible if you've made further modifications. Remove the custom ad blocker rule(s) and the page will load as expected.