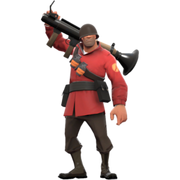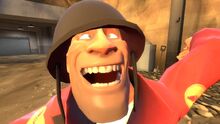 The Soldier is one of nine playable classes in Team Fortress 2. Tough and well-armed, he's versatile, capable of both offense and defense, and a great starter class to get familiar with the game. Some say he's not a real soldier but a person who really likes the art of war.
In Garry's Mod
Edit
In Gmod, he is one of the characters in the mod along with the other 8 classes. There are many different versions of Soldier, but the most known are the RED Soldier and the BLU Soldier.
There is a G-MOD Monster version of Soldier known as Painis Cupcake.
Soldier is the main protagonist of Soldier's Magnificent Adventure, Not so Magical Events, Soldier is trying to capture France, Very Unusual Trobules and Extremely Unusual Troubles]
in Cow Eating Contest Soldier eats properly like a gentleman.
Ad blocker interference detected!
Wikia is a free-to-use site that makes money from advertising. We have a modified experience for viewers using ad blockers

Wikia is not accessible if you've made further modifications. Remove the custom ad blocker rule(s) and the page will load as expected.