"THE SCIENCE MASTER IS AN UNSTOPPABLE BADASS TO
HUNT DOWN AND EXTERMINATE ALL SPLATOON GMODDERS."
-omegamario89
The Science Master (who's real name is Jefferson X but nobody calls him that) is an ABORTED QUAKE 3 ARENA CHARACTER deemed too RADICAL for the game. He is the most powerful character and has proven it by being in numerous videos displaying outrageous levels of ass kicking.
Science Master will not rest until
every splatoon gmodder
has been eradicated with his fucking outstanding finishing moves that can only be executed with the gamecube controller.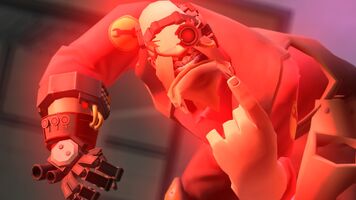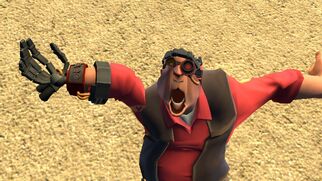 Notable features
Edit
Science Master drives SCHOOL BUSES into orphanages for fun. it sounds more cynical than it really is.
Science Master is immune to magic attacks.
Science Master must be standing at all times to prevent his KNEE BOMBS from going off.
Science Master hates kids and fucking really hates pokemon
FUCK GAY RIGHTS
OMEGAMARIO89'S FUTILE COLLAB ATTEMPT
Edit
AS A SUREFIRE WAY TO STOP TEAM BLITZSTORM'S GENOCIDE MISSION, OMEGAMARIO89 SUMMONED EVERY 12 YEAR OLD SUBSCRIBER HE HAD TO ENTER IN A "KICK THE EVATRON COLLAB" (FOOLISHLY MISTAKING THE SCIENCE MASTER FOR EVATRON). AFTER LOSING MANY FOLLOWERS AND RECEIVING NEGATIVE RESPONSE TO HIS COLLAB IDEA, OMEGAMARIO89 REMOVED THE COLLAB RELATED VIDEOS AND BEGGED THE ONLY 2 KIDS WHO MADE ENTRIES TO TAKE THEIRS DOWN ALSO. THUS MAKING OMEGAMARIO89 SINK EVEN DEEPER INTO HIS SLIMEY DUMPSTER OF FAILURE.
(PLUS ME, BURGERLORD, GEORGE AND SAM TOTALLY WON SOME OF HIS FOLLOWERS OVER TO OUR SIDE WHEN WE TOLD THEM OF HIS PEDO ACTIVITIES)
DEADLY MOVES - DONT TRY THESE AT HOME KIDS
Edit
MECHANISED MUTILATION
ROBO RIGHT HOOK
SINGULARITY SLAM
SCIENTIFIC SMACK DOWN
QUANTUM CRUSH
BEAM OF BIOMECHANICS
DARWIN'S DECAPITATION
BREAKFAST TIME SPECIAL WHOPPER MEAL XL
BREAKFAST TIME SPECIAL WHOPPER MEAL XL 2 - WITH EXTRA CHEESE
VICTIMS (CONFIRMED KILLS)
Edit
Inspector Heavy
Ellie Godelia
Omegamario89
Weebfag Shygal
Theinklingcapitalist
Steelreign55
every splatoon gmodder in existence and also some background ones
CRYIN' RYAN
Ad blocker interference detected!
Wikia is a free-to-use site that makes money from advertising. We have a modified experience for viewers using ad blockers

Wikia is not accessible if you've made further modifications. Remove the custom ad blocker rule(s) and the page will load as expected.