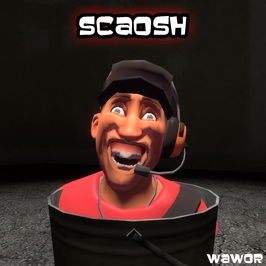 Scaosh is a GMod Monster, he is created by IWaWor . The name is mixed between: "Scout" & "Whoosh".Apperantly,he looks like an ordinary RED Scout who lives in a bucket.

Scaosh' music:
Theme: "Bomber Bomberman 64 The Second Attack - Jail "
Agressive: "Nightmare House 2 - Boss Battle " (Beta was: Oni - Tralier )
Scaosh is a deadly Gmod monster, and most gmodders knows him as the "upside down: Painis Cupcake "
Scaosh' face isn't a HWM face, he is just a ordinary RED Scout model, to make his face select faceposer and adjust his functions to:
PainBigUpper - 0,5 / GK - 0,5 / HappyBig - 1 / HappyBigUpper - 0,5 / FV - 1
And to make him talk: EE - 0,5
Abilities:
Edit
​Scaosh has the following abilities:
Movement:
He likes to enter holes and then will be able to travel around on the enviroment the object is connect to

.</li></li></li></li></li></li></li>
He makes somersault to move around on the ground.

</li> Attacks:</li></li></li></li></li></li>
If Scaosh tells someone he is an object, in their eyes he disguise himself as the object

.</li></li></li></li></li></li></li>
Scaosh bite isn't harmfull but it makes people drunk, and then motionless

.</li></li></li></li></li></li></li>
If he drags people into one of his holes, the victim(s) are sure to be in great danger

.</li></li>==Common lines:== "I am Scaosh" "I am your <insert name of object here>, EAT ME!" "Whoosh" (Short laughs are only used when he is curious or discovers something

)

==Faults and Weaknesses:==
He can get stuck in a prop that are lifted by living creatures.or lifted by magnets.
Scaosh can only regenerate wounds if he eats someone.
Can't get invulnerable/Übercharged.
Appearances:
Edit
Scaosh was first seen on Youtube 18/11/2011 by WaWor (he removed the video due to copyright strikes). But he reuploaded his second Scaosh video on his memorial channel: http://www.youtube.com/watch?v=gAaZBP6cw38
Appearanes: The Combineer </li> </li> </li> </li> </li>
Ad blocker interference detected!
Wikia is a free-to-use site that makes money from advertising. We have a modified experience for viewers using ad blockers

Wikia is not accessible if you've made further modifications. Remove the custom ad blocker rule(s) and the page will load as expected.