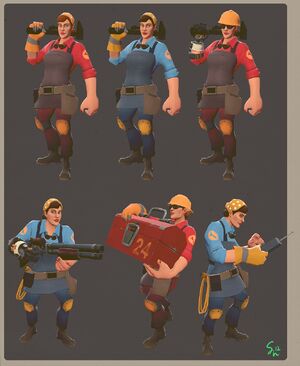 The female engineer is a model and sound replacement for the default engineer who appears in Team Fortress 2.
Much like most other female model replacements for TF2 aside from, the female engingeer was conceived and created by ChemicalAlia with obvious influence from Rosie the Riveter, a female rights cutural icon who was created to support women who were working in factories and a term used to refer to women who beleived in said cause.
The model is compatible with many engineer hats and even the wrangler, and is finger and face-posable.
As with the female spy and female scout, DustyOldRoses provided voice acting for the female engineer.