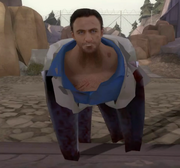 Assnick is a GMod Monster created by YouTube user
anboorgoor.
, starting. off as simply Nick in the video "THAT LITTLE PEANUT MAN," wherein Nick had a powerful "ASS!" scream, before evolving into his current form.
Abilities
Edit
Assnick is unable to move his limbs enough to walk, resulting in him needing to use a special spring from his rear end to bounce around for travel most of the time.
Assnick's primary ability is his ability to call out at a volume that human eardrums cannot handle without experiencing severe pain and headaches. Once he has his victim pinned to the ground, he'll proceed to use this call liberally, eventually resulting in the subject's head exploding.
He can also turn other characters from the Left 4 Dead series into Ass[X] versions of themselves, (eg. AssCoach) as shown in his modern form's first appearance.
Assnick is unable to move effectively without his spring to bounce him along, rendering him vulnerable to materials that can adhere to this spring and stick it to the ground. He's also ineffective to people or Monsters that wear ear protection, as they prevent his calls from hurting the eardrums.
Variations
Edit
External Links
Edit
By the creator
By the community
Ad blocker interference detected!
Wikia is a free-to-use site that makes money from advertising. We have a modified experience for viewers using ad blockers

Wikia is not accessible if you've made further modifications. Remove the custom ad blocker rule(s) and the page will load as expected.